Jayden from Arizona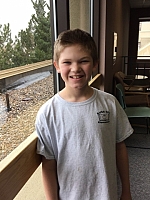 Age 18
Gender Male
Location Arizona
Ethnicity NA
Case Number Jayden
---
Jayden is a big fan of Captain America and the Avengers. He even made his own Captain American shield out of a paper plate.
Art is Jayden's favorite class in school. He particularly enjoys doing spinner art. He recently learned how to make spiders by using a Styrofoam ball and pipe cleaners as legs.
Jayden would like his first job to be at Buffalo Wild Wings, so he can serve and eat wings at the same time. Even though Jayden enjoys wings, his favorite food really is spaghetti.
Jayden would adore a family with both a mom and a dad who are nice, funny and might even have a pet Chihuahua. He can't wait for his forever family to play with him outside!
He is currently placed in Texas and still hoping for his forever family.