Jenna G from Arizona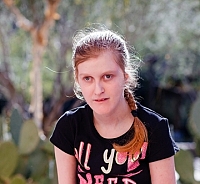 Age 20
Gender Female
Location Arizona
Ethnicity NA
Case Number Jenna G
---
Jenna is a loveable, social girl that loves listening to music! Her other favorite hobbies include singing, watching cartoons, and going out for walks to the park. If any activity involves Jenna being "out and about" she is all for it! Outdoors, Jenna loves to walk; she really enjoys if the destination is the park or a mall.
Jenna is very interested in the colors, sounds, and textures.. So it's not surprising that she enjoys the creativity of colors and textures she finds when doing arts and crafts projects.
Jenna also loves to have her nails painted! When it comes to movies, Jenna's favorite is Frozen. She also enjoys books — especially if they are about dogs or if they make noise.
Jenna knows exactly what she wants. While she readily shows people what she needs through pictures, she continues to learn new ways to connect with others.
Jenna was born in 2003.