Jeramy from Arizona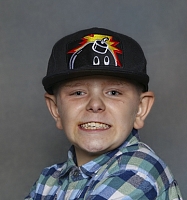 Age 20
Gender Male
Location Arizona
Ethnicity NA
Case Number Jeramy
---
Jeramy starts out shy, but as soon as someone shows an interest in his likes and dislikes, he is happy to share! He loves to showcase his toys, particularly Ninja Turtles or Ninjago, and takes pride in what he has. His personality shines through play, whether it is a game of UNO or a chance to draw pictures. On the weekends, he likes to hang out and play video games.
He enjoys school, and his favorite subject is math. Jeramy shows a curiosity for the world around him and wants a forever family that could open up new worlds with him.
Jeramy was born in 2003.
For more information: Tiffany Mathews tmathews@arizonaschildren.org, 602-618-8710.