Jonathan from Arizona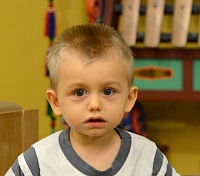 Age 9
Gender Male
Location Arizona
Ethnicity NA
Case Number Jonathan
---
A morning person who loves to play and splash around during bath time, Jonathan is a very happy little boy. He enjoys plush toys that light up — especially if they can also talk. Picture books and music are other favorites, as one can tell by his chatty "babbling" verbalizations.
Jonathan is sitting up and beginning to crawl and scoot all over the place! Although he is 2 years old, his current developmental level is in the 6-9 months range and he will need adaptive equipment in the future.
Jonathan is transitioning to table food, although most of the time it is still soft or pureed.
Jonathan has a genetic disorder and requires 24-hour supervision. A two-parent household is desired. Jonathan's forever family will need to be well educated in relation to his medical necessities and fragility as well as being understanding of the time and high attention he requires.
Due to Jonathan's medical condition, at this time he is not able to attend pre-school or daycare. He receives a number of individualized services which will need to continue throughout his future.
Jonathan was born in 2014.