Ladavia from Arizona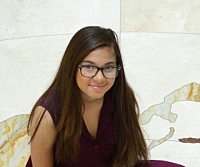 Age 20
Gender Female
Location Arizona
Ethnicity NA
Case Number Ladavia
---
Ladavia is an energetic girl who loves art. In fact, graffiti art is her favorite! At a recent visit to the Musical Instrument Museum she analyzed and explained the meanings of the symbols and letter styles to those with her.
When asked what she is most proud of, without hesitation Ladavia says her artwork. When she's not drawing her own art projects — which include graffiti in the form of people, letters, skulls and roses — Ladavia likes to listen to Mexican rapper Daddy Yankee. She also enjoys skateboarding and playing Grand Theft Auto. Her favorite movies are The Longest Ride and Miss Peregrine's Home for Peculiar Children.
This young lady who wants to be a police detective one day says she is a good friend because she has her friend's backs "and I keep their secrets." She also says she is working on getting better at expressing her feelings. Ladavia has visited Disneyland and Sea World with a friend's family. Someday she would like see more of the world, especially Miami and Hawaii, stopping at amusement parks along the way!
Mexican food — especially spicy Takis — are Ladavia's favorite foods. She likes all holidays, but says Christmas, Halloween and Valentine's Day are her favorites.
Ladavia was born in 2003.