Lee from Arizona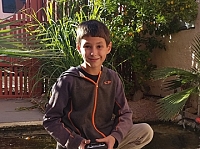 Age 17
Gender Male
Location Arizona
Ethnicity NA
Case Number Lee
---
Lee is an active, and creative boy with a wonderful imagination! He likes dinosaurs, playing swords, building forts, looking for treasure, and make believe, such as acting like a ninja. He loves to play cards or board games and looks forward to the interaction of a family
He does well in school, overall, and engages in life with much curiosity. He is talkative and loves to share his observations of the world. Whether he gets his knowledge from books or real life, he loves to share and discuss concepts.
Lee likes animals and looks forward to a forever family with dogs!
Lee was born in 2006.