Marlene from Arizona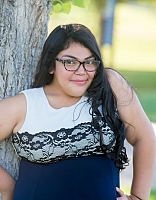 Age 21
Gender Female
Location Arizona
Ethnicity NA
Case Number Marlene
---
Marlene is a sweet, kind, and inquisitive young woman. Her favorite sports are basketball and soccer.. She enjoys writing, coloring, and reading. Marlene's favorite restaurant is Poncho's, but she loves pepperoni pizza, too!
One day, Marlene hopes to become a social worker so she can help kids in similar situations to her own. She also hopes to learn to speak Spanish fluently. Marlene enjoys school. Her favorite subjects are Math and English.
Marlene would love to be a part of a family that sticks together through the good times and the bad times. One of her dreams is to go to Disneyland with her forever family.
Marlene would do well in a home that offers her unconditional love through trials and victories and willing to support the strong relationship she has with her sister.
Marlene was born in 2002.
If you are interested in learning more about Marlene, please contact Marissa Menchaca at mmenchaca@cfcare.org.