Martha from Arizona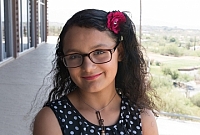 Age 20
Gender Male
Location Arizona
Ethnicity NA
Case Number Martha
---
Martha dreams of having a forever family!
An intelligent, artistic and caring girl, Martha wishes to be a lawyer when she grows up so that she can help others in need. With her high level of creativity, Martha loves working on different art projects. "I can make just about anything," she says. Swimming, cleaning, and going out to eat are other activities Martha enjoys. Her favorite foods are pizza rolls, French fries, and tater tots.
Martha would do best with a forever family who is active and nurturing. Having a great sense of humor is also important to Martha, who says, "I want to be with a good family that is always there for me, listens to me, and helps me out." Martha was born in 2003.