Nelly from Arizona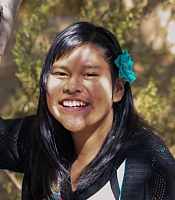 Age 20
Gender Female
Location Arizona
Ethnicity NA
Case Number Nelly
---
Nelly is a bright girl with varied interests — from tent camping to wind surfing on a lake to reading and doing math. So it shouldn't be a surprise that she is proud of receiving a trophy for getting an "A" in school!
Self-described as shy, Nelly enjoys spending time with her friends during lunch at school. She says they like to tell jokes when they get together. She also says she's a good friend to others because one of her friends said she is nice. In her free time, Nelly likes to get outdoors and spends time either playing soccer or walking her dog.
When it comes to food, Nelly enjoys a wide variety of fruits and vegetables. She says some of her favorite foods include fried chicken and spaghetti. And don't forget the sweets. Nelly's favorite movie is Beautiful.
Nelly says her favorite holiday is Christmas because it is near to her birthday and she enjoys getting double presents.
Nelly was born in 2003.