Serenity from Arizona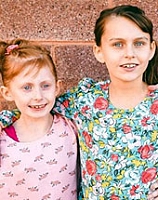 Age 15
Gender Female
Location Arizona
Ethnicity NA
Case Number Serenity
My Siblings
---
Abrianna and Serenity are two social butterflies!
Both girls love animals and plan on being zoo keepers when they grow up. Serenity loves horses and has a fish named Dori, and Abrianna loves dogs and cats. These sweet siblings love to go shopping, attend church, walk their current foster family's dog, ride their bikes and scooters, be around other people, help to cook, and go to movies.
Both Abrianna and Serenity especially love to dance, sing and have books read to them. They also enjoy going to the park and museums.
Abrianna loves being an older sister. She is enthusiastic and competitive. Abrianna is also fun and quirky and loves to tell jokes. Serenity calls Abrianna her "superhero". She is funny and excitable. Serenity loves giving big hugs and loves to cuddle during movie time. She tends to be a little slower to warm up in social situations until she gets used to her surroundings.
Abrianna and Serenity have a strong sense of family and enjoy doing activities together. They need a family with a strong foundation of love, consistency and patience. They just want to be loved and are open to sharing that love as well.