Seth from Arizona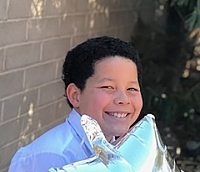 Age 17
Gender Male
Location Arizona
Ethnicity NA
Case Number Seth
---
Seth is a helpful, smart and fun child to talk to! He enjoys carrying on conversations about anything and everything. He is analytical and he has a great memory. You can always count on Seth to ask good questions.
His favorite team is the Carolina Panthers. Seth also enjoys basketball and football and being active. His favorite food to eat is Macaroni and Cheese! He says, "he could eat Mac & Cheese every day of his life."
Seth would love to have a dog one day because he really enjoys animals and thinks they are so smart.
Any family, will be so lucky to have Seth be a part of their family.
Seth was born in 2006.