Tanner from Arizona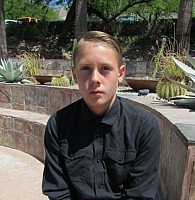 Age 20
Gender Male
Location Arizona
Ethnicity NA
Case Number Tanner
---
Tanner loves to make other people laugh and has a very giving personality. If Tanner had one dream, it would be to help the poor and ensuring that everyone in the world has what they need. Tanner says he is a good friend because he is always there for his friends. Tanner's favorite class in school is science because he enjoys doing experiments. His favorite experiment was the time he made a lava lamp! Tanner aspires to be a welder when he grows up.
Tanner loves Mexican food and especially likes spicy foods. He enjoys staying active and his favorite sports are rugby, swimming and volleyball. Tanner would like to get better at art and drawing cars.
If Tanner could visit anywhere in the world, he would like to travel to Alaska and see an Alaskan Husky. Tanner was born in 2003.