Taylor from Arizona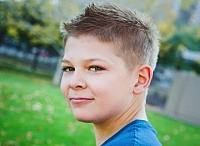 Age 22
Gender Male
Location Arizona
Ethnicity NA
Case Number Taylor
---
Taylor is a friendly outgoing young man; it doesn't take long for him to open up to people.
Spunky and funny, he breaks out into a happy dance after telling a good joke. He loves to make people laugh. Taylor loves being active — from playing "Just Dance" on the Wii, to being outside swimming, skating and riding bikes. He even likes blowing leaves with a leaf blower!
He enjoys sports, especially football. Taylor loves to shoot targets at the shooting range and can hit just outside the bull's-eye! Laser tag is an activity that he also enjoys.
Taylor has been ice skating once and would like to go again. If he could have any wish, Taylor would ask for all the super powers ever invented.
Taylor was born in 2001.