Wesley from Arizona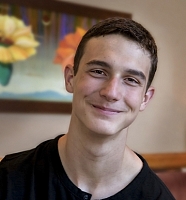 Age 21
Gender Male
Location Arizona
Ethnicity NA
Case Number Wesley
---
If you like sci-fi, fantasy, and alternative rock music, then you will definitely have a lot in common with Wesley! On an ideal day, you can expect to see Wesley playing Dungeons & Dragons and getting lost in the world of fantasy novels.
Wesley is a youth who has shown a lot of resiliency. He has also shown to be quite the gentleman, greeting new faces with a handshake and an overall polite attitude. Along with his politeness, Wesley has shown empathy for the people in his life who have been through complications like he has.
Anyone will see that Wesley is open and will talk about what's on his mind in the moment.
When you are with him, be prepared for the outdoors because Wesley enjoys being in the peace and quiet of nature!
Wesley was born in 2002.