Alante from Texas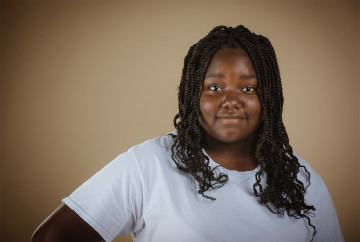 Age 20
Gender Female
Location Texas
Ethnicity African American
Case Number 77796
My Siblings Keosha
---
Alante is our little scholar. She can often be found with her head in the clouds, far off in Narnia battling the White Witch alongside Aslan. Alante has a vivid imagination and loves to immerse herself in reading. She is happiest when allowed to explore all the different worlds through books. Alante has a contagious smile and an irresistible twinkle in her eye. Alante also likes to explore her "girlie" side. She loves to play with make-up, different hair styles and jewelry. Alante can be shy initially but thrives with one on one attention. She is a middle sister and takes special care to look out for her younger sister, Keosha. Alante has an excellent voice and enjoys singing. She loves church and being able to grow in her faith. Alante loves animals and considers herself a "dog person".
Alante and Keosha are sweet and loving youth. They are anxious and ready to meet their forever family. Alante and Keosha love music and love to dance. They are very bonded with one another and love to do things together. Alante does well in school and loves science. She loves anything science related, especially astrology and learning about volcanos. Keosha is a very active girl who likes to stay busy. She likes to ride her bicycle and go for walks. She loves spending time with her siblings and going to church. Alante and Keosha would like a Christian family who will be active in church. They very much want a family to care for and love them. While they may not agree on everything, the one thing that they do agree on is that they are ready to be with their family. Visit us at the Heart Gallery of the South Plains.
Alante needs a family who will engage her mind and heart. She is very intelligent and will need to have encouragement and support to continue on her academic journey. Alante is very excited about finding her forever family and beginning this chapter in her life. She would love to have a family who will allow her to be a child as she still sometimes sees herself in a parental role with her younger sister. Alante will benefit from a loving family who can set boundaries and provide her with plenty of structure, love, and nurturing. Alante's church life and faith are very important to her. She would ask for a family who shares her values. Alante would also love a family that will allow her to remain in contact with other siblings who are not part of this adoption.