Harold from Texas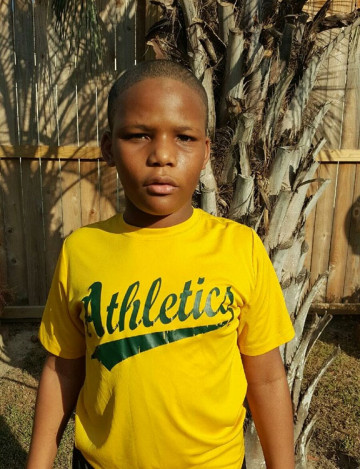 Age 19
Gender Male
Location Texas
Ethnicity African American
Case Number 79472
My Siblings Alford
---
Harold is a very loving boy who is diagnosed with Autism Spectrum Disorder. He likes to be close and will say "I love you" often. He is very energetic and will keep himself occupied by playing video games. He likes to write his name when you ask him and he will show you which toys are his favorite. Harold likes to explore his surroundings and will curiously touch anything that is around. He is an extremely inquisitive boy and will amuse himself with whatever is around him. Harold is also very active and will keep his foster family engaged throughout the entire day. He requires prompting and redirection at times. He loves attention and when he feels he is being ignored, he will occasionally express himself in a physical manner. He does not like to stop playing so occasionally has to be persuaded to go to bed.
Harold and Alford are two very loving boys with lots of energy. They are both adorable and will lovingly tell their foster parents "I love you!" frequently. Harold and Alford play well together and love the outdoors, climbing, and playing basketball and football. They like to color together and play with toys that move. The boys keep themselves occupied with their toys and video games. They seem to really enjoy each other's company. Harold and Alford are very entertaining and love receiving lots of attention. Harold will quickly tell you that he loves you and then he will run back into his room in order to play with his toys. He loves to play games, do paint shop on the computer, and watch television. Alford likes to play with his DSI. He will quickly tell you that his favorite color is blue and that he likes stuffed toys that light up. Alford likes to smile and laugh a lot. Harold and Alford are a great duo who share the same love for outdoor activities.
Harold will be happiest with a family who has no other children in the home besides him and his brother. He requires a lot of love and patience, and is a very loveable boy. Harold needs a family who will provide him with supervision at all times. The family who adopts Harold needs to be a very active family who loves to explore the outdoors, play sports, and likes giving lots of love and affection.