Jordan from Texas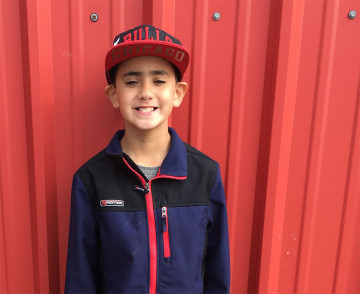 Age 16
Gender Male
Location Texas
Ethnicity African American
Case Number 82900
My Siblings Rheuben
---
Jordan is your typical boy for his age. He loves to play sports, get dirty, and run around like crazy! Jordan is really into sports, especially football and soccer. He also likes riding horses and helping out with the animals. Jordan wants to live in the city but not too far away from the country. He likes school and has really good grades. During the summer Jordan likes going to the pool and swimming. He is a big help around his house and almost always helps out with his chores. Jordan keeps his room clean and tidy. He is the older of the two, so he is very good at the nurturing role. He has a huge heart and loves everyone. Jordan is very excited about getting a new family, and wants a ton of siblings!
Jordan and Ty are looking for a family that will adopt them together. These boys have expressed a desire to live in California, but also would be totally ok with living in Texas too. They love to swim, go on picnics, and play outside. Ty wants to play football, all day every day. Ty is very athletic and is always on the go. Jordan is also very athletic. Jordan is the oldest so he takes it upon himself to see to it that his brother is safe and protected. These two boys love being together, getting dirty, and just having fun. They share many similar interests, but also have enough different interests to keep you on your toes!
Jordan needs a family who will show both boys the same amount of love and support. The ideal home will be structured, but also allow him to have a sense of individuality. Jordan need a family who is understanding of his past and will help him work through any issues. Jordan needs a family who will continue to push him to be the best he can be, and to see to it that their give him the best chance to reach his full. Jordan does not have a preference in the make-up of their family, just as long as his parents love each other and treat each other with love and respect. Jordan is looking for a family who will adopt him and his brother.