Leslie from Texas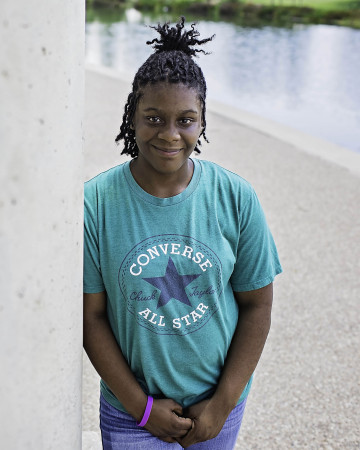 Age 21
Gender Female
Location Texas
Ethnicity African American
Case Number 79879
My Siblings James
---
Leslie is by far the sweetest child you will meet. She loves to make other people happy, but also wants someone to joke around with her. Leslie has a laid-back personality and it takes a lot to truly get her upset. She loves the relationship she has with her older brother, James. She has said they can just look at each other and know what the other one is thinking. Leslie makes friends very easily and is loved by all of her teachers. She makes good grades in school and is never a behavior problem. Leslie is quick to volunteer if the need arises, but struggles with completing her chores in a timely manner. She is definitely a "go-with-the flow; it will get done in time," type of personality. Leslie has a very kind heart and does not like to see people hurting or in need.
James and Leslie look out for each other, encourage each other, and do not sugar coat anything. They love each other unconditionally. James and Leslie respect each other's independence, but at the same time do not let the other one forget how important family is and that family always comes first. They each bring their own unique characteristics to the sibling group, which, of course, sometimes causes those typical sibling disagreements. James and Leslie grow from every experience they have individually, but also together. They cherish the memories they have made together and look forward to making many more with their forever family. Visit us at the Heart Gallery of Central Texas.
James and Leslie will thrive best in a home where they can remain with each other. Their family will ideally have experience raising teenagers. It is important their forever family understands they have a very close relationship to each other, and that the family needs to be able to maintain this strong sibling bond. These children are best suited for a married couple, a non-married couple or a single father or mother family dynamic. James and Leslie depend on each other. They look out for each other but do not like when told what to do (like most siblings). They will do best in a home where their adoptive parents can give them the attention and proper guidance they require. James and Leslie need a structured setting and a home that can provide for their needs. Most importantly, they are in need of a home to adopt them and love them forever.