Seretha from Texas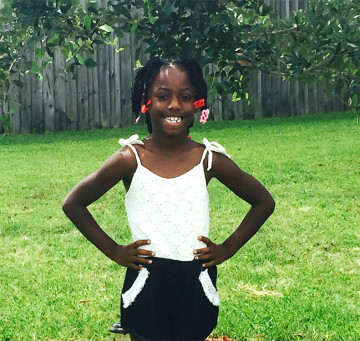 Age 10
Gender Female
Location Texas
Ethnicity African American
Case Number 82343
My Siblings Lydaiesha
---
Seretha is a kind hearted child who prefers to go by her nickname Mariah. She is a shy young girl who loves to sing, play with dolls, go to the rodeo, and spend time with family and friends. Mariah looks to her older sister, Daiesha for comfort and reassurance. She loves spending time with her sister. At times, Mariah is very social once she gets to know someone. She works will with introductions and respects authority figures. Mariah's favorite thing to do is riding bikes with her friends in her neighborhood. Mariah needs a family who is patient and loving.
Daiesha and Mariah have a very close sibling bond with one another and desire to be adopted into a loving family together. They enjoy spending time together while looking out for each other's best interests. Their favorite things to do is riding their bikes with their friends in the neighborhood and watching movies together. They enjoy going to Cici's pizza, and participating in the Boys and Girls Club. Daiesha, being the older of the two, is very protective of Mariah and loves her very much. They look to each other for security and comfort, and seek a family who will love them forever.
Mariah desires to be a part of a home that has a mother and a father. The prospective family must be loving, active, and consistent. They must be willing to adopt her as well as her older sister. Mariah will benefit from a family who has a strong focus on academics and is proactive in their children's schooling and progress. The family must provide a nurturing and emotional connection that is created and sustained overtime. The ideal parents will have consistent rules, clear goals, and reinforce positive behaviors with praise and rewards. She will do best in a home environment that is highly structured and loving.