Lacy from Virginia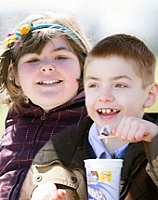 Age 17
Gender Female
Location Virginia
Ethnicity NA
Case Number SVA018573
My Siblings Tyler
---
This active, fun-loving sibling group, Lacy and Tyler, are looking for a loving family who are ready to take on two imaginative and affectionate children.
Lacy, 11, is a "girly-girl" who loves playing dress up – especially if she gets to wear purple or pink. She has a love for art and creativity as well as puzzles, board games and outdoor activities such as riding her bike or swimming. She has a love for animals, especially horses, and she hopes to one day learn how to ride one. With so many fun passions, Lacy hopes to find a family that shares some of her many interests!
Tyler, 9, is the exact opposite of a homebody – in fact, if he could live outside, he probably would! He has a love for adventure and recently took a trip to Disneyland, which allowed Tyler to meet some of his favorite Disney heroes! Along with staying outdoors, Tyler loves playing basketball with his church team and hopes of someday joining the NBA! He is quite the gentleman too, priding himself on holding doors open for people and responding with "yes ma'am and yes sir."
From their forever family, Lacy and Tyler are looking for a family who will treat the sibling group with unconditional love, patience and support.