TreVari from Virginia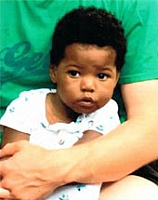 Age 8
Gender Male
Location Virginia
Ethnicity NA
Case Number VA01318629
---
Tre'Vari is a friendly child with a huge personality! He enjoys playing on his mat with toys, "singing," and spending time with his older foster siblings. Tre'Vari has an even temperament, but will use his facial expressions to show when he is displeased! He can be best described as a sweet and happy child who loves to snuggle. Tre'Vari also loves to swim and play in the water. He has recently started experimenting with more types of food.
Tre'Vari has discovered that he most enjoys crunchy food and sweets. He loves to be played with and loves when people are interacting with him. Tre'Vari loves singing and listening to music. He doesn't like tummy aches and he doesn't like being alone. Tre'Vari is very aware of what is going on around him and does not want to miss out on anything! He really enjoys the attention he gets from his older foster siblings.
Tre'Vari requires caregivers who are patient, kind, and committed. He also requires caregivers who will advocate for him and push him to do his very best.