Brandon from Alabama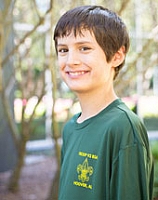 Age 18
Gender Male
Location Alabama
Ethnicity NA
Case Number 59012017171MNS
---
Brandon, born June 2005, is a well mannered, somewhat quiet, child. He loves spending his time drawing, building with LEGOS, riding his bike, playing on a computer, and catching up on episodes of Pokémon. Brandon is active in Boy Scouts, and enjoys being outdoors and learning new things. He loves going to school and does well in all subjects. Brandon does have an IEP for math and writing. He made all A's on his last two report cards, and is very proud of his achievements. Brandon likes playing with younger children, but needs encouragement to play with children his own age. He does struggle with relationships and needs guidance in that area. Through the Boy Scouts, he has made some progress in his ability to form relationships with others his own age.
Brandon enjoys being around animals, he states that cats are his favorite. He is currently in a home with two Labrador Retrievers and a small mixed breed. He is not afraid of the dogs and pets them regularly.
Brandon would do best in a two-parent household or a single-parent (female) home where he is the only child or the only young child in the family unit, so he can receive one-on-one attention. Brandon receives counseling and supportive therapy to help him deal with behaviors and past experiences.