Naziah from Alabama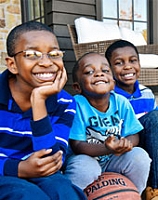 Age 14
Gender Female
Location Alabama
Ethnicity NA
Case Number S590110752
---
Naziah, born April 2008, is a very curious child who loves to talk about things that he is interested in. He loves to play with toys and to watch television. Naziah loves memorizing songs from the cartoons and movies he likes and he loves to sing. He responds very well to one on one attention from adults.
Malachi, born January 2010, is a very energetic child. He is very happy and friendly. He loves toys and anything regarding super heros. Malachi loves to be outdoors. He likes positive attention from adults.
Noah, born December 2013, is a sweet and loving child. He is very affectionate and loves to hug. Noah likes anything that his big brothers like. He is a very independent child, and insists on doing things himself. He loves to play outdoors. Noah likes to play with his toy trucks and cars, and he likes to play with blocks. Noah interacts well with adults and other children.