Tireyal from Alabama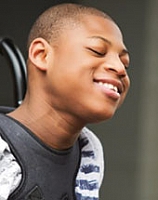 Age 22
Gender Male
Location Alabama
Ethnicity NA
Case Number 59012013045CR
---
Tireyall, born in March 2001 has a diagnosis of microcephaly, Intellectual and Developmental Disabilities and cerebral palsy. Tireyal cannot hear, see or speak and uses a wheelchair for mobility.
Tireyal does make noises to communicate and almost seems to be "singing" at times. He likes to rock in his wheelchair and to suck on his fingers. He is very responsive to touch and he laughs when tickled.
He attends school and receives special education services. Currently, he lives in a specialized care center where all of his medical and physical needs are met, but he would thrive in a family setting that could give him the love and emotional support we all desire.