Alexandria from Arizona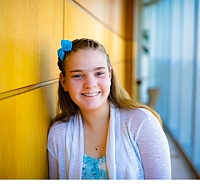 Age 18
Gender Female
Location Arizona
Ethnicity NA
Case Number Alexandria
---
Alexandria is a charming, expressive, and talkative young lady who enjoys painting her nails and collecting rocks. She also likes to watch TV and movies, listen to music, and go swimming. She takes an interest in badminton and would like to play on an actual team!
Alexandria's favorite food is spaghetti. Her favorite restaurants are Denny's, where she can order birthday cake pancakes, and Panda Express where she likes to get orange chicken.
Alexandria enjoys listening to contemporary Christian music, pop music and enjoys funny TV shows. For an evening out, Alexandria enjoys going to Mercury basketball games or going bowling. If she stays in, she likes to play board games and computer games with friends.
Alexandria's favorite subject is art because she loves to draw. Alexandria would like to be an artist or a teacher when she grows up.
Alexandria would like an older female sibling but if there are no siblings, that's alright, as she is open to being an only child. Alexandria would like a family to be able to give her a lot of attention and assistance with focusing on her school work.
Alexandria was born in 2005. If you are interested in learning more about Alexandria, please contact Heather Pava hpava@cfcare.org.