Antonio from Arizona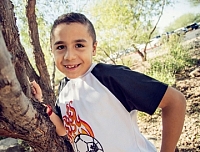 Age 16
Gender Male
Location Arizona
Ethnicity NA
Case Number Antonio
---
Antonio has a great appreciation for things with wheels — whether he's playing with his Hot Wheels and track outdoors with his best friend or just admiring them from a distance, cars are his thing! In fact, he would like to be an automotive engineer when he grows up. Even Transformers have not escaped his attention. And one of his wishes is to one day ride in a limo.
While on a trip to Disneyland, Antonio enjoyed the many rides. Not surprisingly the Cars ride, tram and monorail were his favorites.
When he's not outside rolling along, Antonio enjoys drawing and art. He also enjoys building with Lego blocks. Antonio doesn't have a favorite subject in school, but he would like to improve his Spanish skills. His favorite food is pepperoni pizza.
Antonio does not have a favorite holiday because in his faith, holidays are not celebrated. When he's just hanging out, Antonio likes to go to the local YMCA, saying, "The slide at the pool is the best." He also loves to run!
Antonio was born in 2007.