Cami from Arizona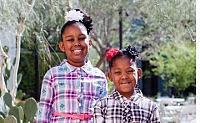 Age 15
Gender Female
Location Arizona
Ethnicity NA
Case Number Cami
My Siblings Zoe
---
Even though Cami and Zoe are sisters, their personalities are very different. Outdoors, both girls enjoy playing on the slide and swings. But if you ask Cami what Zoe's favorite thing is, she doesn't hesitate to say that Zoe enjoys poking her sister!
Big sister Cami is the more outgoing of the two. She enjoys watching SpongeBob and Papa Troll on TV. She says she's a good friend because she is nice to people. When it comes to food, Cami like Spaghettios, chili hot dogs, fruit and even broccoli. But she does not care for pepperoni.
Despite her age, younger sister Zoe is a bit of an old soul. She likes to paint flowers and enjoys eating pepperoni pizza, bananas and oranges.
These sisters are clearly bonded to one another and look forward to growing up together!
Cami was born in 2008 and Zoe was born in 2010.