Dameon from Arizona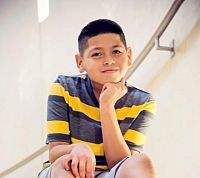 Age 17
Gender Male
Location Arizona
Ethnicity NA
Case Number Dameon
---
Dameon will warm up quickly as soon as you are able to make him smile with a joke. His laugh is very unique and will leave your heart feeling full. Besides his silly and playful nature, he has a very athletic side. Dameon enjoys the competition that sports have to offer and will often be found outside throwing around a football, playing basketball or riding his bicycle. He will be the first to approach another child on the playground and ask them to play; he is very friendly and makes friends easily.
Dameon enjoys school and the set routine that school has to offer. He works well with his teachers to excel in the classroom.
Dameon will do best in a two-parent home with both older and younger children. He gets along and plays well with other children and enjoys having a pet in the home, as he often turns to his foster placements family dog for comfort and companionship. He strives with structure and routine, and often requests to know what is coming next as this seem to calm his nerves. Dameon will be most successful in a family that can create a set schedule and clear expectations. He will require committed adults that will provide him with the love, trust and support that he longs for Dameon was born in 2006.