Demetre from Arizona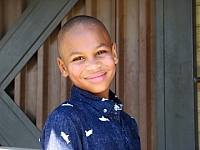 Age 16
Gender Male
Location Arizona
Ethnicity NA
Case Number Demetre
---
Demetre is a very sweet little boy! He enjoys watching TV shows such as "Yo Gaba Gaba," "Teletubbies," "Frozen," and "Cars". Demetre enjoys playing outside and jumping on his personal sized trampoline. He also likes a good meal and some of his favorite foods include: Doritos, enchiladas, grapes, and bananas.
Demetre has an array of services in place that will follow him to his adoptive home. These services assist him with his learning and development. At school, he requires an Individualized Education Plan to help him as he continues to make strides learning his letters, numbers, colors and developing his social daily living skills. Demetre will need the support and love of his adoptive family throughout his life.
Demetre was born in 2007.
For more information: Tiffany Mathews at: TMathews@arizonaschildren.org or Cell: 602-618-8710