Kaleigh from Arizona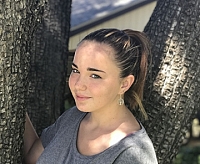 Age 20
Gender Female
Location Arizona
Ethnicity NA
Case Number Kaleigh
---
A total social butterfly, you can find Kaleigh just about anywhere enjoying time with her friends, family, and loved ones with a huge smile on her face! Kaleigh's outgoing and kind personality is sure to draw you in and brighten up your day. She's a typical girly-girl who likes to do makeup, her hair, and hopes to become a photographer and cosmetologist when she grows up—specializing in hair care and styling.
When Kaleigh isn't out with her friends, she enjoys babysitting and caring for some of the children in her neighborhood and community. By achieving her Child Care, CPR and First Aid certificates, Kaleigh finds great joy being able to be entrusted with a small, side job.
In addition to all of this, Kaleigh is looking forward to being adopted and would highly benefit from a one or two parent household who can help nurture and guide her as she grows into a young woman. She would love to have siblings of any age, but most importantly, wants her new forever home to welcome her and her bunny, Bon Bon.
Kaleigh was born in 2003.
For more information about Kaleigh, contact: Crysta Hernandez, chernandez@cfcare.org