Rebekkah from Arizona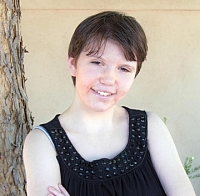 Age 21
Gender Female
Location Arizona
Ethnicity NA
Case Number Rebekkah
---
Rebekkah, who goes by Becky, is a sweet, talkative girl with an infectious smile. She might appear quiet at first, but get her talking about the Disney Channel or Penguins and she quickly opens up.
Link most teens, Becky enjoys hanging out with her friends, making jokes and acting silly together. Becky really likes going out to malls and parks, but also enjoys hanging out around the house.
At school, she says Math is her favorite subject. The perfect day for Becky would begin playing at a McDonald's playground, watching Disney Channel and eating a meal at her favorite burger restaurant.
The ideal family will be willing to care for Becky for her even beyond childhood and capable of meeting her physical and emotional needs.
Becky was born in 2002.