Trina from Arizona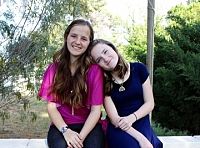 Age 19
Gender Male
Location Arizona
Ethnicity NA
Case Number Trina
My Siblings Sarah
---
Separated by only 2-3 minutes, Sarah and Trina are your typical bubbly and happy "girly girl" twins. Both love spending time articulating and perfecting their artistic abilities. Each girl can pass hours in the day by coloring, drawing, painting, and even sculpting in different mediums, including clay and origami! Outdoors, Sarah and Trina stay active jumping on the trampoline, playing basketball, or playing on their jungle gym. Although they share the same birthday and creativity, each girl shines with her own talents and abilities.
Sarah, the oldest, is currently involved in cheerleading and loves the challenge it presents to her. A former gymnastic student, she likes to participate in competitive events with her squad and see how far she can push herself. She also enjoys jumping on the trampoline, swimming, and family outings like camping. On a rainy day, Sarah can be found listening to music, watching Anime, and completing large puzzles. On the other hand, Trina is more the "hand on" sister. While both girls are extremely crafty, Trina likes to express herself in a more artistic and abstract way. She finds great enjoyment in painting, sewing, knitting, and making different kinds of jewelry. Trina also likes to sing and play basketball. She would like to attend ASU one day and study Paleontology.
Together, Sarah and Trina are a joy to be around! They are learning to support each other in new ways as they grow into young ladies, and they balance each other out very well. These sisters are looking to be adopted together into a family who will teach, guide, and nurture them. The girls would thrive in a one or two parent home with other siblings, but not in a home with boys younger than them. Pets are joyously welcomed, especially cats and dogs.