Trystin from Arizona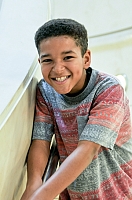 Age 17
Gender Male
Location Arizona
Ethnicity NA
Case Number Trystin
---
Looking good and "presenting well" are both very important to Trystin. A quiet boy, he enjoys "just hanging out" with his friends during recess.
Basketball is Trystin's favorite sport, and one he would like to get better at playing. Off the court, Trystin enjoys playing various board games. He also likes to play Minecraft and old Atari games including Centipede and Pac Man. In the winter, he enjoys playing in the snow.
When it comes to music, Trystin has eclectic tastes: He enjoys both rap and country and would like to learn how to play the accordion!
Trystin was born in 2006.