Andre from California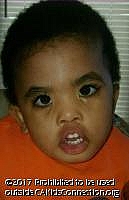 Age 8
Gender Male
Location California
Ethnicity NA
Case Number 501996
---
Meet Andre, he loves trains! Andre grooves to the sound of music. His favorite past time is playing with his box of toys, which consist mostly of trains. Despite having many medical needs, he is very stable with his general health and will thrive in a loving home environment. Andre is a people person even though he may not be able to express it through facial gestures; he loves hugs and affection. He enjoys being surrounded by people who interact, play and talk with him. He is described as a happy child with a personality of gold.
Andre is thriving and growing at his best. He is no longer oxygen dependent, and only uses it as needed. He is now able to stand with assistance and pulls himself up to a standing position. He crawls, sits, and socializes with people by sounding out a couple of words, laughs, and knows how to show his contentment.
Andre is waiting for a loving, caring, and child focused family that embraces him with unconditional love, attention, stability, protection and most importantly patience and understanding to support his development at his own pace.