Conan from Maine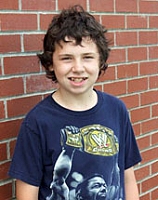 Age 20
Gender Male
Location Maine
Ethnicity NA
Case Number ME081640015
---
Conan was born in November of 2002. He has dark hair and eyes and is a handsome young man. He has an infectious laugh and bright smile. Conan loves the outdoors and loves animals. He loves action figures, Legos and art. He loves to read. He is a loving young man and cares for others. He has a strong need for love and nurturing.
Conan is in junior high and receives special education services for behavioral struggles. He is an inquisitive and creative child and wonders how things work and does well academically.
A family with a strong male role model would be a plus for Conan.