Leo from Maine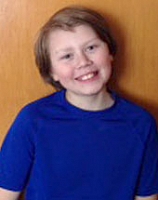 Age 16
Gender Male
Location Maine
Ethnicity NA
Case Number ME081643540
---
Leo was born in August of 2006. He has sandy blonde hair and blue eyes and is a handsome young man. He has an infectious laugh and bright smile. He is a loving young man and cares for others. He has a strong need for love and nurturing.
Leo loves the outdoor and riding bikes. He loves basketball, track, other sports, and video games. Leo has scoliosis and wears a brace, usually after school; which limits his physical activity.
Leo loves school and has good grades although he strives to do better. He receives special education services for behavioral struggles. He is an inquisitive and creative child and wonders how things work and does well academically.
He is the youngest of 3 siblings and has 2 sisters. Leo and his siblings were victims of chronic neglect and abuse due to parents' substance issues. His parents' parental rights were terminated freeing he and one sister for adoption. Leo's oldest sister is an adult and his other sister is in an adoptive home.
Leo's behavioral issues stem from his history of abuse and neglect. He has lots of past trauma and has experienced lots of loss. He would flourish with a parent or parents who love the outdoors and outdoor activities. Leo needs a family who will put his needs first and in whom he can trust. Leo would thrive in a family with lots of patience, supervision, consistency and nurturing.