Jada from Texas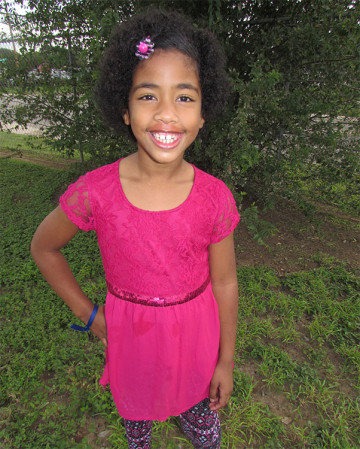 Age 13
Gender Female
Location Texas
Ethnicity African American
Case Number 82719
---
Jada is a very active child who enjoys being outdoors. She likes playing on the swing sets best. Jada requires special attention in the classroom to help eliminate distractions. She is a crafty and daring child. She is also loving once she gets to know you. Jada has learned ways to manage her behaviors better through supportive services. She benefits from avoiding distracting lights and sounds, especially when studying or at bedtime. Jada can be independent and will try to accomplish tasks by herself. She likes to explore and learn new things every day. Jada is open-minded and willing to try new things.
Lane, Jameion, and Jada are charismatic children who are full of energy and ready to show off their talents. They interact very well with each other and enjoy each other's company. They like sports, playing on the playground, and just being outdoors. As the oldest, Lane likes to teach his siblings and act as an older brother. Jameion is outspoken and patient with both of his siblings. Jada is very outgoing and likes to play with her brothers, but she also enjoys her girl time. Lane, Jameion, and Jada like to challenge each other and keep one another on their toes.
Jada is open to being adopted. She will benefit from a family that provides her structure and love. Her family will spend one-on-one time with her and show her patience. Jada's family will also need to advocate for her and be able to access resources she may need. She will benefit from a family that is consistent, while also providing her new challenges to encourage her progress and growth. Jada's family will need to allow her to express herself and understand the challenges she will have to overcome.