Moriah from Texas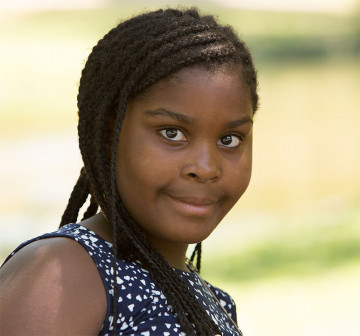 Age 13
Gender Female
Location Texas
Ethnicity African American
Case Number 82275
My Siblings Quintavius Amelia
---
Moriah is a friendly, confident, talkative youth who enjoys arts and crafts. Finger knitting is her favorite. In fact, Moriah hopes to be a seamstress when she grows up. In addition to crafts, Moriah likes dancing, especially hip hop. Surprisingly for a child her age, Moriah also reports she really likes chores and even in her own words thinks "they are fun." Moriah also appreciates one on one attention and quickly warms up to new, friendly adults, showing her something funny or giving her a recently colored picture. Moriah's favorite subject in school is math. She also enjoys spending time with her siblings and especially appreciates the attention of her oldest brother.
Quin, Moriah, and Amelia are three delightful children who desire to be adopted together. Moriah and Amelia enjoy telling you all about their day while Quin sit back quietly and let his younger sisters take center stage. As the oldest, Quin assures his sisters are safe and tries to help them when they need it. Quin enjoys spending time with his younger siblings and playing the big brother role, looking out for them. While Quin is the basketball hopeful, the girls also have similar interests as Moriah and Amelia both enjoy hip hop dance, arts and crafts, and playing outside. These siblings are ready to have a home that is safe with boundaries and expectations. Visit me at the The Heart Gallery of Central Texas.
Moriah needs a family that will adopt her and her siblings. She needs a family who is active. The ideal family will have multiple caregivers in the home and few or no other children. Moriah is a warm youth who needs a nurturing, consistent family who will help grow to her full potential.